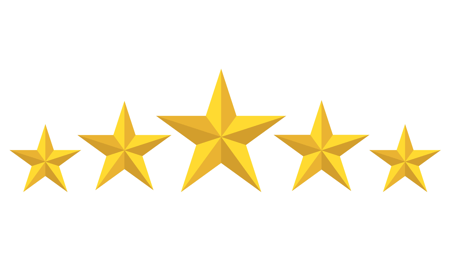 5-Star service is not an award. It is a declaration that our team will go out of our way to deliver the technology experience stated in our 5-Star Promise. The difference between four-star and five-star service is the mindset; a way of working and most of all, a healthy disdain for anything mediocre.
We have challenged our team to go the extra mile to meet a set of standards that we believe, if delivered to you, constitute a 5-Star service rating and we are willing to earn it.
Here's How the 5-Star Promise Works:
We will ask you, based on a stated 5-Star Promise criteria, to rate us three times a year. If we fail to receive 5 stars from you, we will discount your service.
We will present to you our 5-Star Promise that outlines the criteria.

Three times a year we will schedule an MTS HealthCheck to evaluate the performance of your IT environment. Recommendations and suggestions on how to leverage IT to your advantage will be provided at this time.

If we fail to earn a star in any of the 5 categories your bill will be discounted, and a plan outlined to achieve 5-Star service.
Five-star service performance or we discount the bill.
That's our 5-Star Promise to you.